(NOTE: parts are available only while supplies last - prices subject to change without notice)
Have a question about which part is right for your bike?

Are you ready to place an order?

Call: Al Buehner - (216) 651-6559 Mon-Fri 8:30am to 4pm E.S.T.

or E-mail us a list of your quantities and part numbers: pentonpartsusa@sbcglobal.net

A

B

C

D

RUBBER WASHERS

used throughout bike to protect

plastic and painted parts

#51-05-082-100 - $ .20 each or

$9.00 per pack/50

B #0021-060-000P - $ .20 each or

flat washers $3.00 per pk/50

C #0985-060-003P - $ .20 each or

6mm nylock nuts $4.00 pk/50

D #0933-060-203P - $ .25 each or

6 x 20mm bolts $4.00 pk/25

PLASTIC HELMET VISORS

Visor has 3 adjustable snaps that adjust to fit any open faced helmet.

#99-HP-17534 white colored visor $8 ea

Limited quantities – available while supply lasts

BARUFFALDI Tear-off Helmet Visor

Designed by Roger DeCoster. Incorporates clear tear-offs on the visor so that at the start of muddy races you merely put your head down, look through the visor, and remove tear-offs as needed to keep your goggles mud free. Has 3 adjustable snaps for easy helmet installation.


#99-HP-17560 smoke color visor - $10 ea

BARUFFALDI refills

clear plastic replacement "Tear-offs" for

Baraffaldi helmet visor

#99-HP-17561 – 3 sets for $1

SuperSeer SUPER MASK

face protector to fit XR500 series SuperSeer gogles

Blue or Red - $4 each

SuperSeer SUPER MASK

face protector to fit XR500 series SuperSeer gogles

Yellow or Black - $4 each

Model 503

SuperSeer Replacement Lenses

fits XR500 series gogles - size 7-11/16" (195mm) wide

3-3/16" (80mm) high

available in Amber, Polarized, Clear,

Green - all weather, Smoke Brown & Fog Cutt*R

close-out priced at $1 each

Model 504

SuperSeer Replacement Lenses

fits XR500 series gogles - size 8-1/16" (205mm) wide

3-1/4" (82mm) high

available in Amber, Polarized, Clear,

Green - all weather, & Smoke Brown

close-out priced at $1 each

Model 505

SuperSeer Replacement Lenses

fits XR500 series gogles - size 7-11/16" (195mm) wide

3-1/4" (82mm) high - has 2 side holes

available in Amber, Polarized, Clear,

& Smoke Brown

close-out priced at $1 each

Seal Savers
The modern solution to keep dirt and dust from entering fork seals and causing oil leakage. One size stretches to fit forks. (Replaces fork boots)

Available in 3 colors. Washable and reusable.
#1-48-101 – Black
#1-48-102 – Silver

Only $20 pair

Hi-Point BLUE FORK GAITERS

for 70's and early 80's mini bikes

8" long, fits 27mm upper fork, 48mm lower leg

Close-out priced at $15 pair

Flywheel puller for Honda, Kawasaki, & Husqvarna

22mm x 1.5 pitch right hand (Male) thread

#99-PUL-22150 - $24 each

fits the following models:

HONDA - XL-XR 250/ 350/ 500/ 600/ 650 VF 500/ 700/ 750 vt/ 1000/ 1100vt

V45/ 65 VFR 750 FT/ GB 500 NX650 TL250

KAWASAKI - 1985-95 KLR250 1984-86 KLR600 A/B 1987-95 KLR650 A

1990-91 KLR650 B Tengai

HUSQVARNA - fits most 1990-present WX and WR series 2 stroke enduro models

A

B

HANDLEBAR CLAMPS

FOR 1968-71 CERIANI TOP FORK PLATES

A - #2-4-000 - $3 each
chrome U-bolt
B - #2-3-000 - Sold out

saddle clamp

Indian side panel decal

Indian MI-175 Side Panel Decal

Vinyl self adhesive decal printed in red, white & blue

measures 10.5" in length - available only as shown

Close-out priced at $2 each

Motion Pro TAIL LIGHT / PLATE HOLDER

Ideal for enduro and off-road use. Comes with double filament 12 volt bulb. Red plastic lens is made of Lexan to resist breakage. Rubber flap easily bolts to any rear fender and will accept standard size motorcycle license plates.

#51-11-040-600 - $84.00 each

A B C

Reproduction Honda Contact Points

A- #99-HP-22-88801 - $5 each

CB350/360 Right (Honda #30203-286-004)

B- #99-HP-22-88802 - Sold out

CB350/360 Left (Honda #30204-286-004)

C- #99-HP-22-88803 - $5 each

CB450/GL1000 Right (Honda #30203-292-003)

#99-LAB1

#99-LAB2

Generic Rubber AIR BOOTs

2 styles - cut to fit length

#99-LAB1 - $10 each

small end I.D. 62mm (2-1/2")

large end I.D. 70mm (2-3/4")

length 130mm (5-1/8")

#99-LAB2 - $10 each

small end I.D. 62mm (1-5/8")

large end I.D. 70mm (2-3/4")

length 170mm (6-3/4")

middle section I.D. 58mm (2-1/4")

UNIVERSAL THROTTLE ASSY KIT

includes plastic throttle assembly and handlebar grip

close-out priced at $10 kit

PUCH

Hi-Point THROTTLE CABLE

for 125/175cc Puch with grey covering

for metal Magura throttle to 26mm Bing

Outside casing measures 42" long

#99-HP-904 - Out of stock

made in England by Ted Wassel

Dunlop RIM LOCKS

fits size WM1 rims (front)

#99-HP-906 - $5 each

Rubber Mud Flap

For Front Fenders

Mud flap used on motorcycles with aluminum front fenders.

Top of mud flap measures 3.5" wide x 6" long

Two 6mm mounting holes on top for bolting to the fender.
#51-08-012-000 - $6 each

NUMBER PLATE BRACKETS

For mounting front number plate to front forks.

Bracket snaps onto front fork tubes and is held

in place with large rubber band (included). Made of stainless steel to prevent rusting.

#51-01-087-000 - $20 each
32mm size bracket - fits forks with 5-3/8" gap between tubes
#51-01-087-100 - $20 each
35mm size bracket - fits forks with 5-1/4" gap between tubes
#51-01-088-000 - $1.50 each
extra rubber band

Head Light Plastic Number Plates

size - aprox. 9" (230mm) x 11" (280mm)

all have raised rounded edge on front side

#55-01-090-500 Yellow - $8 each


#55-01-090-600 White - $8 each

Plastic oval number plates

size - aprox. 9" (230mm) x 11" (280mm)

#55-01-090-100 Yellow - $5 each or

3 for $13

#55-01-090-200 White - $5 each or

3 for $13

#55-01-090-300 Green - $5 each or

3 for $13

#55-01-090-400 Red - $5 each or

3 for $13

#55-01-090-500 Black - $5 each or

3 for $13

Plastic Rectangular Number Plates

small size - aprox. 10" x 7-1/4"

#55-01-090-021 Yellow - $5 each or

3 for $13

#55-01-090-023 Green - $5 each or

3 for $13

#55-01-090-024 Red - $5 each or

3 for $13

#55-01-090-025 Black - $5 each or

3 for $13

Plastic Rectangular Number Plates

large size - aprox. 12" x 10"

#55-01-090-031 Yellow - $7 each or

3 for $18

#55-01-090-032 white - $7 each or

3 for $18

#55-01-090-033 Green - $7 each or

3 for $18

Crome Low Rise Handle Bars
Euro Style bars, 7/8" with 3" rise, 25" across
# 65-00044 - low rise bars - $90 NOTE: only 3 in stock
NOS MAGURA Clip-On Bars
Polished alloy bars, aprox 9" extension with fixed angle. has 2 pinch bolts for slide-on installation.

Available for 3 fork sizes:

# 99-MAG-145 - fits 39mm forks - close-out $120 pair

# 99-MAG-147 - fits 40mm forks - close-out $130 pair

NOS Clip-On Bars
Black painted steel bar connects to alloy fitting with 32mm center hole. clamps to top of fork leg. 43.5mm diam. x 5mm deep recess on top of mounting bracket. Extension bar measures 8-3/4" long.


# 99-MAR-611A - close-out $60 pair NOTE: only 1 in stock

NOS Clip-On Bars
Black painted steel bar connects to alloy bracket with 32mm center hole. clamps to top of fork leg. 43.5mm diam. x 1.8mm deep recess on top of mounting bracket. Extension bar measures 8-3/4" long.
# 99-MAR-612A - close-out $60 pair NOTE: only 1 in stock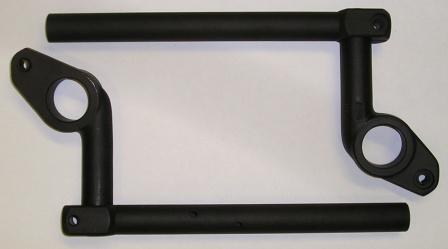 NOS Clip-On Bars
Black painted steel bar connects to alloy bracket with 32mm center hole. clamps to top of fork leg. 43.5mm diam. x 1.8mm deep recess on top of mounting bracket.. 55mm extension from leg bracket. Extension bar measures8-3/4" long.

# 99-MAR-613B - close-out $60 pair NOTE: only 1 in stock
Have a question about which part is right for your bike?
Are you ready to place an order?
Call: Al Buehner - (216) 651-6559 Mon-Fri 8:30am to 5pm E.S.T.
or Fax us a list of your quantities and part numbers: 216-651-1620